THEME WORLDS at OTWorld
Discover the Theme World!
Prosthetics and Orthotics
OT World 2022 was about new innovations and the latest scientific findings on optimal treatment and care in the fields of prostheses, orthoses, corsets and other medical aids.
In 2022 there were numerous exciting articles in our programme to the following topics:
Orthopaedic Footwear Technology
Orthopaedic footwear professionals could experience product premieres, discover innovative technologies for pedorthists and take part in numerous events around the topic of healthy feet at OT World 2022.
Our Treatment Route Insoles provided an insight into the topic orthopaedic footwear and technology and its state of quality standards.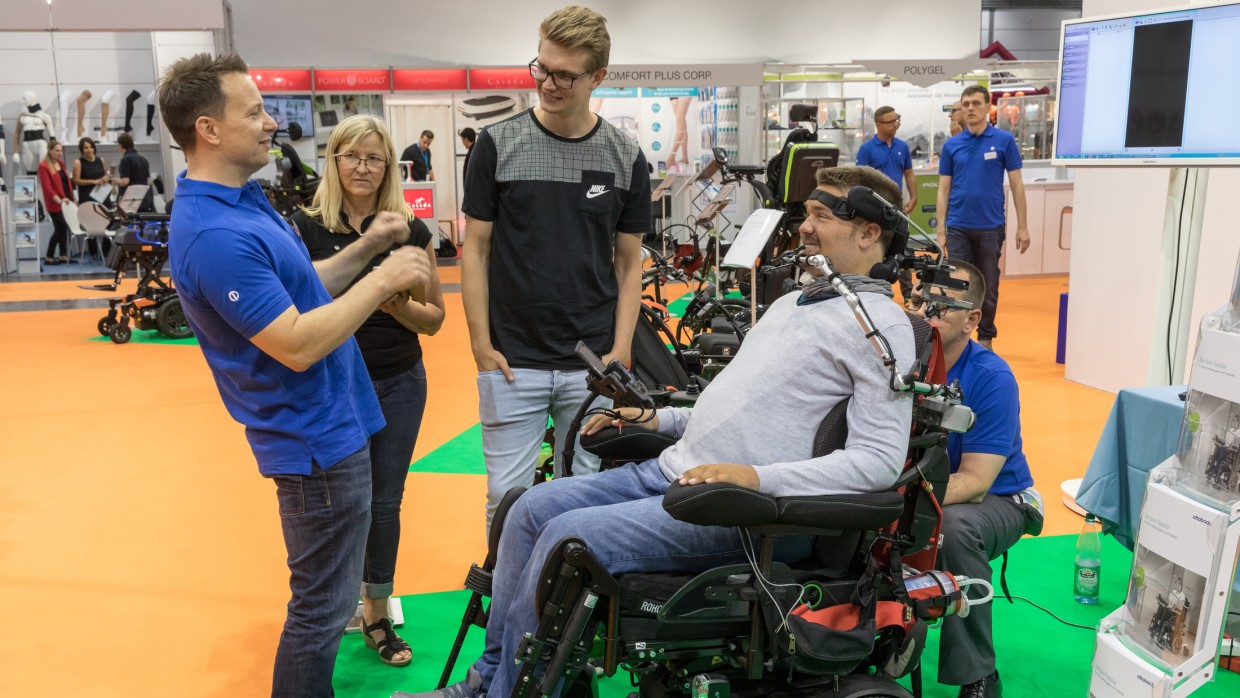 Rehabilitation Technology
Mobility is the word. From wheelchairs to stair-lifts or mobility aids, OT World 2022 was all about the most important trends in optimal personalised treatment and care for people with severe disabilities.
The new Treatment Route Cerebral Palsy informed about interesting aspects on the topic Rehab Technologies.
The programme of OTWorld offered a wide range of artitcles on the topic Treatment Area Movement Disorders/Paralysis .
Retail Surgical Stores
At OT World 2022, visitors were offered to take a look at the retail surgical store of the future. To find inspiration for new products, management approaches, best practice processes, as well as concepts for in-store furnishing and presentation.
Future-ready room concepts and the latest trends were presented by Pavilion of Shop Design .
The Treatment Route Lymphatic informed about the complex treatment of patients.
Medicine
At OT World 2022, physicians, surgeons, rehabilitation doctors or sports physicians took advantage of our certified educational events as well as from intensive interdisciplinary exchanges.
Education
At OT World 2022, there was a variety of events and special shows such as the Youth.Academy TO, the Education Zone or the MOOC for apprentices, students or anyone interested in professional training and education.
Education Zone
In a single shared exhibition space, higher-level vocational schools, universities, and other educational institutions from around the world presented their advanced training programmes, providing inspiration for continuing professional development. In addition, topic-specific lectures were offered on-site and online.
NEW: MOOC
In the new Massive Open Online Course (MOOC), participants learned about caring for patients with an amputation, the relevant professions and their associated education paths in 20-minute videos. Experts from around the world reported. The programme contributions appeared exclusively online and were published in the OTWorld media library.
Youth.Academy TO
At the Youth.Academy TO on May 12 and 13, 2022, young professionals from the fields of prosthetics and orthotics, orthopaedic footwear technology, healthcare supply retail, medicine and physiotherapy came together at OTWorld to learn about the latest industry developments and trends, share their experiences, and network with each other.