You can watch many entries of our media library by simply registering a user account on our website. To watch a video, log on to your user account.
Some exclusive videos are restricted to holders of a valid "Congress on Demand ticket". The ticket is included in the "full congress ticket". You can also purchase the ticket in our ticket shop after the event.
Optica - Abrechnung, Software & Service.
Exhibitor: Optica Abrechnungszentrum Dr. Güldener GmbH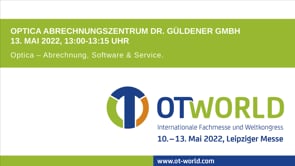 Short description
Entdecken Sie mit Optica und unseren Digitalisierungslösungen neue Möglichkeiten der Versorgung.
Description
Unseren Kund:innen die tägliche Arbeit zu erleichtern und mit einem außergewöhnlichen Service begeistern. Das ist es, was uns antreibt und wofür wir jeden Tag aufs Neue unser Know-how und unsere Erfahrung einsetzen. Unsere Expertise setzen wir heute und zukünftig für Ihren unternehmerischen Erfolg ein. Wir sind ein starker Partner, der auf engen Austausch setzt, der Liquidität verschafft und für Sie innovative Lösungen entwickelt. Besuchen Sie unseren Messestand in Halle 3 Standnummer F13 und sprechen Sie vor Ort mit unseren Expert:innen über unsere digitalen Produkthighlights.
More interesting videos for you
Exhibitors
Die Optica Abrechnungszentrum Dr. Güldener GmbH ist einer der führenden Abrechnungs- und Finanzdienstleister im deutschen Heil- und Hilfsmittelmarkt. Seit mehr...