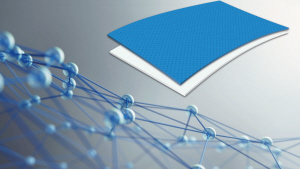 New EVA foam: Lunatec fusion for making insoles without any adhesive (EVA foam, vegan, made in Germany)
Lunatec fusion is a global innovation in the area of expanded EVA materials which ensure a reliable, permanent bond without the additional use of adhesive. These unique new materials create an immediate bond during processing and bond with each other solely as a result of heat, time and pressure. This allows fast, clean, environmentally friendly and healthy working at the highest level of quality, all made in Weinheim. In addition, the new material is 100% vegan and has been tested, of course, for harmful substances and to confirm dermatological skin tolerance.

These materials bond with each other through thermoplastic moulding. During the cooling phase, the surfaces literally melt together and fuse to create a permanent bond. There is no need to apply adhesive, thus avoiding contamination, later discolouration, tangible hardening and long drying times. The advantages: Massive savings on time and costs as well as clean, environmentally friendly working, without any adhesive at all.
Product Groups
Treatment Areas
More Products of nora systems GmbH EVA solutions for health and industry
Contact
Höhnerweg 2-4
69469 Weinheim
Germany
Tel.: +49 6201 805486
Fax: +49 6201 884683
Your Contacts