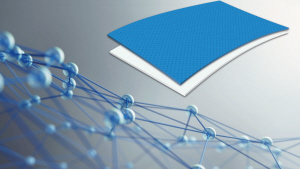 Absorbs shearing forces and has soft bedding properties: Lunatec motion (EVA foam sheets)
There are plenty of soft materials in our industry that are bedding or cushioning or that have slow restoration ability. However, with Lunatec motion (approx. 10 and 20 Shore A) a development has been introduced that absorbs shear forces caused by walking, so that a large part of the load of the musculoskeletal system is being removed, and therefore the pain. What must be highlighted here as well are its excellent bedding and damping properties in the horizontal load plane.

Intended applications: for foot orthotics and damping in inner shoes, as a top layer, most of all for patients with painful foot or joint diseases like rheumatism or for sensitive diabetic feet. As cushioning in classic orthoses and as a functional lining on support orthoses and corsets. It reduces pain through minimising shear forces, making it ideal for pressure sensitive areas. Numerous practitioners e.g. in rheumatological clinics are already using Lunatec motion successfully with their patients.
Product Groups
Treatment Areas
More Products of nora systems GmbH EVA solutions for health and industry
Contact
Höhnerweg 2-4
69469 Weinheim
Germany
Tel.: +49 6201 805486
Fax: +49 6201 884683
Your Contacts