You can watch many entries of our media library by simply registering a user account on our website. To watch a video, log on to your user account.
Some exclusive videos are restricted to holders of a valid "Congress on Demand ticket". The ticket is included in the "full congress ticket". You can also purchase the ticket in our ticket shop after the event.
Examination technique for the residual limb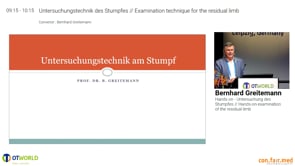 Short description
Basiskenntnisse der Untersuchungstechnik am Stumpf werden vermittelt: Worauf muss ich achten? Was muss ich untersuchen? Wo sind wichtige Palpationsbefunde?

Die Teilnehmer sollen in die Lage versetzt werden, Probleme zu erkennen, zu bewerten und ggf. sinnvolle Zuweisungen zum Arzt zu veranlassen.
More interesting videos for you
Subprogram Items
12/05/2022
9:15 AM - 10:15 AM
Congress Lecture
Prof. Dr. med. Dipl. Oec. Bernhard Greitemann (Reha-Klinikum Bad Rothenfelde, Klinik Münsterland der LVA Westfalen)