You can watch many entries of our media library by simply registering a user account on our website. To watch a video, log on to your user account.
Some exclusive videos are restricted to holders of a valid "Congress on Demand ticket". The ticket is included in the "full congress ticket". You can also purchase the ticket in our ticket shop after the event.
Generating stronger evidence in limb loss and preservation – the establishment of a US registry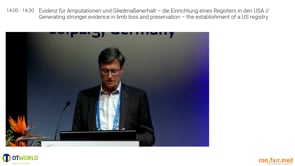 Short description
There is a significant global burden of disease associated with limb loss and limb preservation in the European Union. Despite the significant burden, little is known about the effectiveness of practices and technologies following limb loss. A similar medical situation exists in the United States. To advance scientific developments, the Limb Loss and Preservation Registry (LLPR) has been developed. The LLPR is a multi-stakeholder comprehensive national registry that captures critical information related to the causes, processes of care, and outcomes of more than 500 amputations per day occurring in the United States. The LLPR is designed to standardize, measure, and report patient outcome data, support evidence-based decision making, enhance health care delivery, and establish and disseminate best practices.
Moderator:
Keynote Speaker:
Downloads
More interesting videos for you