You can watch many entries of our media library by simply registering a user account on our website. To watch a video, log on to your user account.
Some exclusive videos are restricted to holders of a valid "Congress on Demand ticket". The ticket is included in the "full congress ticket". You can also purchase the ticket in our ticket shop after the event.
The digital transformation: Opportunities and risks for people with disabilities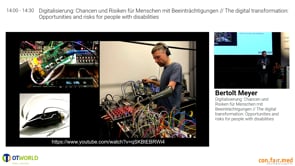 Short description
Die Digitalisierung hat in den letzten Jahren zu großen Fortschritten bei Hilfsmitteln und Prothesen geführt. Daraus resultieren neue Möglichkeiten zur Inklusion, aber auch gesellschaftliche Risiken.
Downloads
More interesting videos for you