You can watch many entries of our media library by simply registering a user account on our website. To watch a video, log on to your user account.
Some exclusive videos are restricted to holders of a valid "Congress on Demand ticket". The ticket is included in the "full congress ticket". You can also purchase the ticket in our ticket shop after the event.
Basics of soft orthoses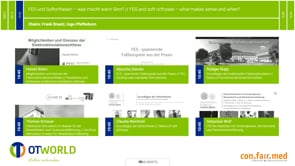 Short description
Patienten mit neurogener Grunderkrankung weisen unterschiedliche funktionelle Defizite auf, die zu Einschränkungen in der statischen und dynamischen Stabilität führen. Softorthesen erlauben eine aktive Köperkontrolle mit relevantem funktionellem Zugewinn.
Speaker:
OTM Claudia Weichold
Universitätsklinikum Heidelberg, Klinik für Orthopädie, Paraplegiologie und Unfallchirurgie
More interesting videos for you